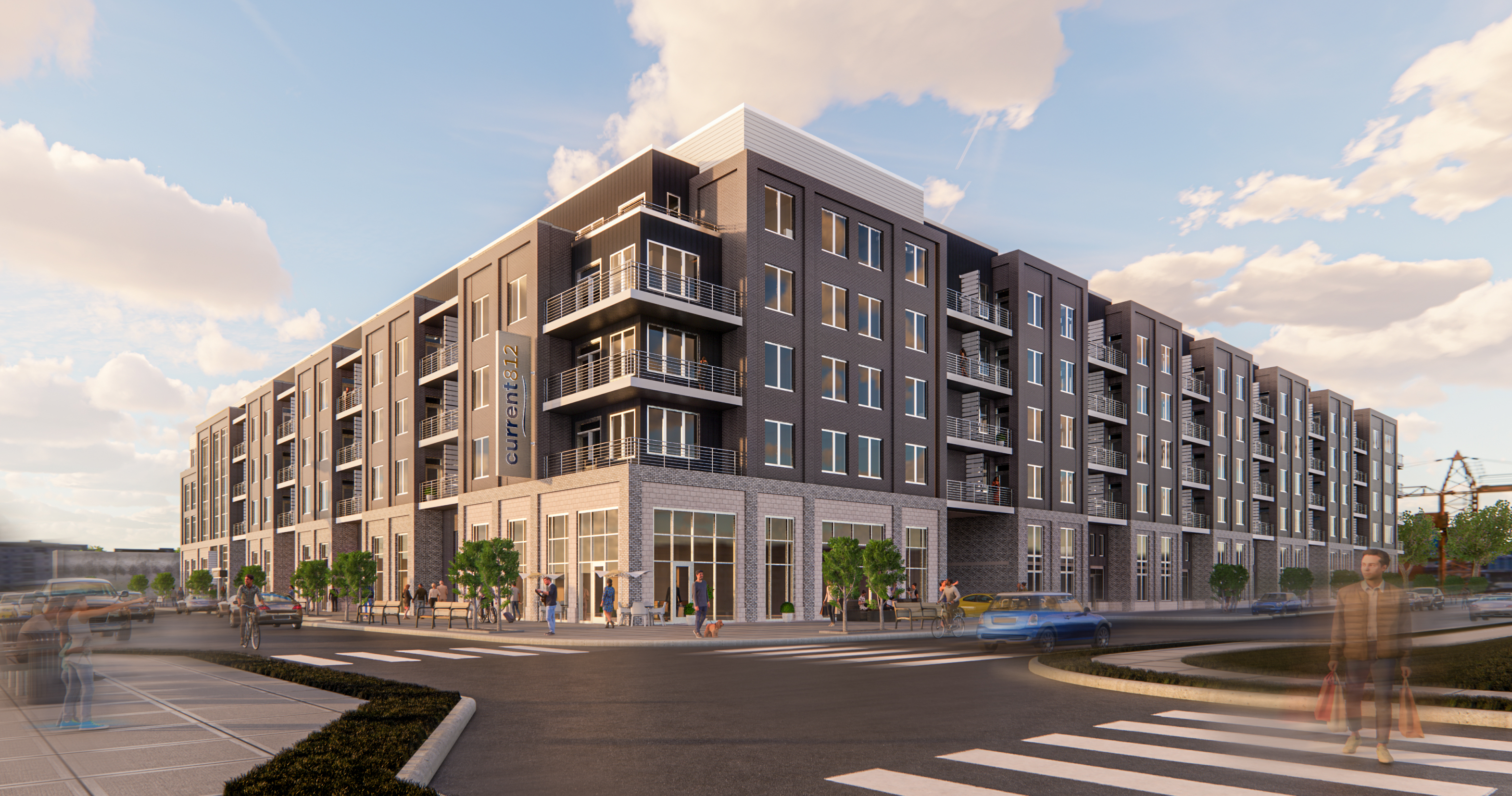 Denton Floyd Real Estate Group Launches New Luxury Apartments in South Clarksville
Current812 aligns with the South Clarksville Redevelopment Plan to enhance economy and region
Clarksville, IN (Mar 07, 2022) – Denton Floyd Real Estate Group ("Denton Floyd") closed on a new development in December 2021 to build 200 luxury apartments and townhomes for the Town of Clarksville, IN. The development, known as Current812, will include a two-story fine dining restaurant overlooking the Ohio River, a heated resort-style pool, gourmet grilling stations, fire pits, clubhouse, fitness center, pet spa, and dog park, a resident pavilion with iconic views of both Downtown Louisville and the Ohio River, and 9,300 square feet of street-level Class A retail.
Current812 will have a parking deck containing 238 parking spaces for both residents and retail customers. Additionally, the luxury apartments and townhomes will have individual balconies with panoramic views overlooking the Ohio River or street-level patio living. Current812 will contain one- to three-bedroom units, with unit sizes ranging from 720 to 2,530 square feet. Monthly rents for luxury apartments and townhomes will start at $1,400.
Current812 is being developed as a part of the Town of Clarksville's redevelopment master plan to create a traditional Main Street downtown district, with over $200 million of new developments. The new district sits within a 15-minute walk to the Falls of the Ohio State Park and a 10-minute drive to the University of Louisville. Clarksville's new downtown is projected to attract more than 1,000 new housing units, state-of-the-art office spaces, vibrant mixed-use retail spaces, and signature hotels. The Town of Clarksville is excited to welcome Denton Floyd's Current812 development and is encouraged to see these types of developments continue to build momentum for the area.
Construction of Current812 is already underway and is expected to be completed by the Fall of 2023. Denton Floyd and the Town of Clarksville are planning to conduct a formal ribbon cutting on Tuesday, March 22, 2022, at 1 pm EST at the project's location, 1511 Main Street in Clarksville, IN. The public is invited to attend.
About Denton Floyd Real Estate Group
Founded in 2008, Denton Floyd Real Estate Group, located in Louisville, KY, is a full-service development firm with construction, property management, and brokerage divisions. With over 5000 units under management or development in Kentucky, Indiana, Florida, and Tennessee, Denton Floyd offers superior service and a quality product to its clients and residents.