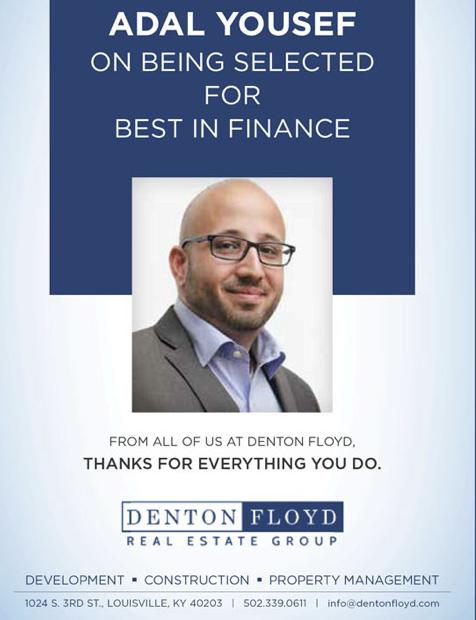 Back for its fourth year, Louisville Business First presents its Best in Finance awards, which recognize any outstanding professional working in a finance position at a Louisville-area company or nonprofit organization.
WHAT IS THE GREATEST CHALLENGE YOU FACE AS A FINANCIAL EXECUTIVE?
Competing to recruit top talent in an extremely challenging market. I want to continue to surround myself with the best and brightest individuals in my industry.
TELL US ABOUT A GRATIFYING MOMENT WITH A CLIENT.
The most gratifying moment for me was getting our company's first opportunity Zone deal closed. It took a lot of hard work and dedication, but we finally made it to the finish line and it is certainly going to be a signature project for our company.
WHAT ADVICE DO YOU LIKE TO SHARE WITH YOUNG PEOPLE ENTERING YOUR INDUSTRY?
Never give up passing the CPA exam. It is a fulfilling professional certification that you should want for yourself. Make sure to continuously challenge yourself and take the bull by the horns. Always demonstrate the ability to take ownership in what you do and come to your boss prepared with answers/ideas for every problem/question you have.
WHAT WAS YOUR BIGGEST PROFESSIONAL ACCOMPLISHMENT OF THE PAST YEAR?
Being able to add a few key individuals to my team that are aligned with our company's culture, vision, and values. We are an extremely selective company when it comes to hiring individuals and want to ensure we are only adding top talent that are in alignment with our company mission/goals.
HOW HAS THE CORONOVIRUS PANDEMIC AFFECTED YOUR WORK? WHAT CHALLENGES ARE YOU AND YOUR ORGANIZATION FACING THAT YOU DIDN'T BEFORE?
It has been challenging from every angle, as our organization is people-driven. We interact with people across the board in every division and trying to change that over a short period of time has been challenging. We have managed to place different things in place to help manage through the new norm that we have been faced with.