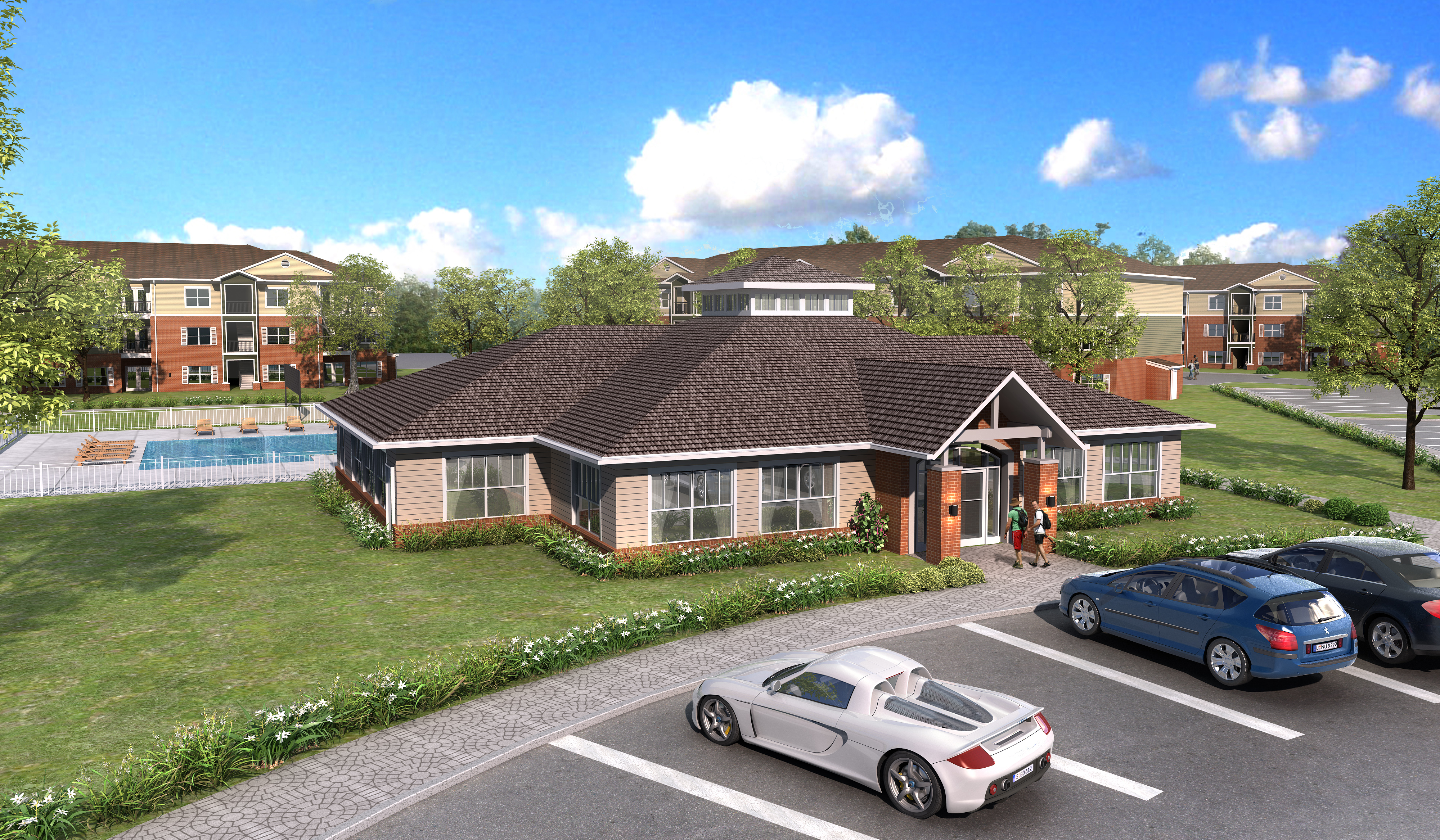 Construction of Another Class A Multi-Family Development to Begin in Thriving Southern Indiana Corridor
The Slate will build on the success of neighboring Villas of Jeffersonville and Lakeside Gardens while bringing more needed housing options to the area.
(Louisville, KY —) LDG Development and Denton Floyd Real Estate Group announced their newest residential development, The Slate—a 264-unit luxury apartment community that will provide much-needed housing to Jeffersonville and builds on the economic success that continues to take place near the I-265 corridor in Southern Indiana. The Slate will be located at 4903 Hamburg Pike, Jeffersonville, IN, which is within one mile of Veterans Parkway.
The Slate will offer luxurious 1, 2, and 3-bedroom garden-style apartment homes in one of the fastest-growing areas in Greater Louisville. This garden-style apartment community will have first-class amenities that include a community clubhouse, resort-style pool, fire pits, gourmet grilling stations, 24-hour fitness center, children's playground, volleyball court, car wash, pet spa, and a dog park.
The Slate is centrally located in Jeffersonville with easy access to Interstate 265, Interstate 65, and the East End and Downtown bridges. The apartment homes will be equipped with stainless steel appliances, hardwood floors, granite countertops, and outdoor living space. Rental rates for the community will range between $984 to $1,526 per month.
Brandon Denton, Co-Founder of Denton Floyd, stated, "We continue to see tremendous growth in Jeffersonville, as indicated by our third investment in the area. This growth is a direct reflection of the City's ability to create significant jobs and investments in Southern Indiana. We are excited about this new development and believe that the addition of more housing options in Jeffersonville will support significant expansion over the next 10 years, building on the economic success of River Ridge and related developments. Jeffersonville should continue to provide significant job growth to the Greater Louisville area."
Chris Dischinger, Co-Founder, and Principal of LDG says, "While we will continue to primarily focus on the affordable housing market, The Slate will help to address a growing demand for high-quality housing in every price range.
"Meeting the pent-up demand for more quality housing options is essential for a community to accomplish its long- and short-term economic development goals. Developments like The Slate are essential to addressing this need and LDG is thrilled to be partnering with Denton Floyd to make The Slate a reality," said Dischinger.
About Denton Floyd Real Estate Group
Denton Floyd Real Estate is a fully integrated development, construction, and property management company, with over 5000 units representing a combined asset value of more than $400 million under management. The company is headquartered in Louisville, KY. For more information, please visit www.dentonfloyd.com.
About LDG Development
LDG Development is the country's largest developer of affordable housing, with more than 17,000 units that span seven states. The company is headquartered in Louisville, KY, with offices in Atlanta, Nashville, and Austin. For more information, please visit www.ldgdevelopment.com.
LDG Development
1469 S 4th Street
Louisville, KY 40208
(502) 638-0534 – Office
www.ldgdevelopment.com
Denton Floyd Real Estate Group
1024 S 3rd Street
Louisville, KY 40203
(502) 339-0611- Office
www.dentonfloyd.com