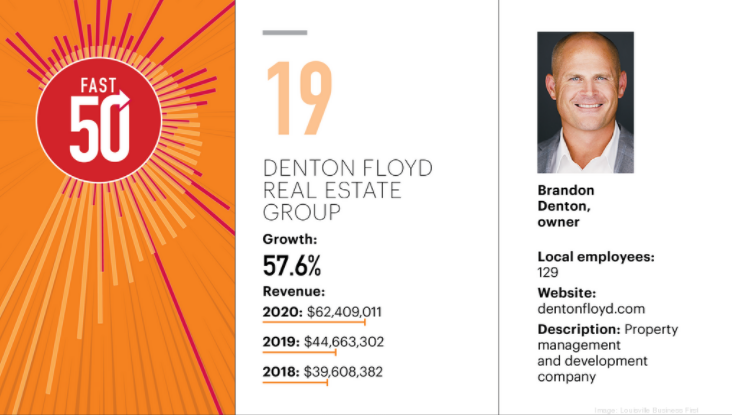 Denton Floyd Real Estate Group named one of Louisville's 50 Fastest Growing Companies in 2021

Louisville, KY – March 23, 2022. Denton Floyd Real Estate Group ("Denton Floyd") was recently named one of the 50 Fastest Growing Companies in Greater Louisville by Louisville Business First in 2021. Business First has calculated revenue data for dozens of privately held companies in the area to determine which ones are setting the pace. Fast 50 companies on Business First's list must be independent, for-profit, and privately held. With 2020 revenues of $62.4 million, which represents a 57.6% increase since 2018, Denton Floyd's growth has been fueled by significant increases in new construction developments and third-party property management.
What is fueling your company's growth?
The continued demand for quality housing, both from a residential and an assisted living standpoint.
What is your company's biggest accomplishment during the past year?
Surpassing $100 million in active development projects and achieving a portfolio of over 5,000 apartment and assisted living units under management.
What is the most important thing you have learned from running your business during the pandemic?
The need to be very nimble and adaptive when dealing with rising construction costs, shortages of supplies, and economic difficulties for some of our Residents.
About Denton Floyd Real Estate Group
Founded in 2008, Denton Floyd Real Estate Group, located in Louisville, KY, is a full-service real estate firm with construction, property management, and development divisions. With over 5,000 units under management or development in Kentucky, Indiana, Florida, and Tennessee, Denton Floyd offers superior service and a quality product to its clients and residents.