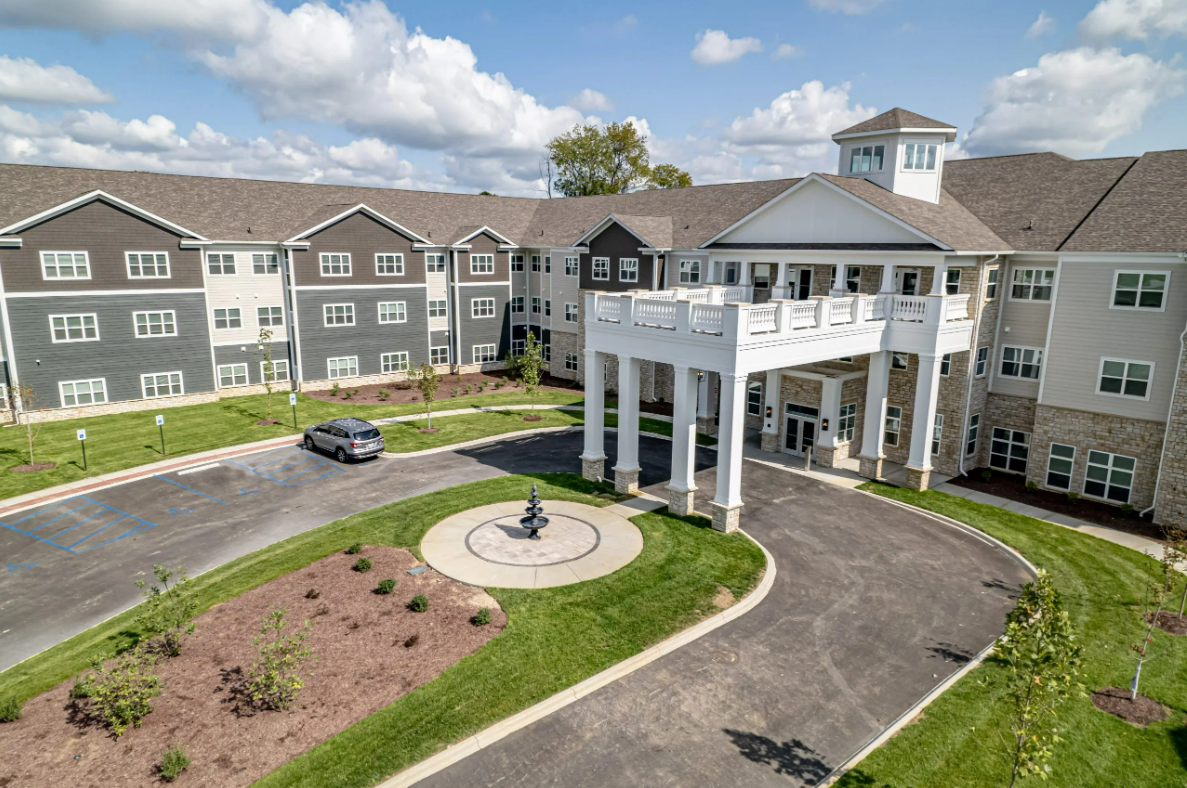 Denton Floyd Completes Construction of Assisted Living Community in Jeffersonville
Bridgepointe Gardens' grand opening to occur Wednesday, Oct. 19th
Louisville, KY (October 17, 2022) – Denton Floyd Real Estate Group and Vitality Senior Services are excited to unveil their newest development, Bridgepointe Gardens (www.bridgepointegardens.org), a 131-unit Class A Assisted Living and Memory Care community located in Jeffersonville, Indiana.
Located in one of the fastest growing submarkets within the Louisville metropolitan statistical area, Bridgepointe Gardens is a 131-unit Class A assisted living and memory care community offering customized senior living options. Bridgepointe Gardens contains premier 1- and 2-bedroom apartments, ranging in size from 600 to 900 square feet, as well as 16 full-service memory care units. The 3-story senior living community sits on 8 sprawling acres and includes a movie theater, hair salon, therapy gym, private dining, library, bar/lounge, chapel, lake with walking trails, and outdoor gardens with gazebos.
About Vitality Senior Services (www.vitalityseniorservices.com)
Vitality Senior Services was formed in 2017 by a group having over 100 years of successful business experience, including operations, sales, marketing, accounting, construction, and development management. Vitality Senior Services manages developments that provide housing and services for the senior population with a primary focus on senior independent living, assisted living, and memory care units. The company currently operates five developments or 450 units in Indiana and Kentucky. We currently service New Albany and Jeffersonville, Ind., Louisville, and Bowling Green, KY. We are also building a new development in Southern Indianapolis to be completed in 2023.
Vitality Senior Services and Denton Floyd Real Estate Group intend to own and operate 1500 units through development and acquisitions over the next five years.
About Denton Floyd Real Estate Group (www.dentonfloyd.com)
Founded in 2008, Denton Floyd Real Estate Group, located in Louisville, KY, is a full-service real estate firm with construction, property management, and development divisions. With over 10,000 units under management or development in Kentucky, Indiana, Florida, and Tennessee since 2012, Denton Floyd offers superior service and a quality product to its clients and residents.